Bay City


Where All the Pieces Come Together
Finding the right place to live and do business is a puzzle that can be a challenge to put together. Everyone seems to be looking for a community where families thrive in a safe and healthy environment, where work is meaningful, and leisure time is fulfilling. A place where neighbors care about each other and take pride in the place they call home. A town that values its past yet plans for its future. A community where the benefits of small town living are balanced with big city conveniences.
Most folks find only a few of these quality of life pieces in one place and decide to make do with an incomplete picture. In Bay City however, everything comes together to create the ideal location to live, work and play.
To find out how Bay City became such a livable community, take a trip back in time to its founding in 1894 by visiting the Matagorda County Museum and Childrenís Museum. Here history comes alive in exhibits that include artifacts from the Karankawa Indians (the areaís native inhabitants), a cannon from 17th-century French explorer LaSalleís ship La Belle, Stephen Austinís colonization of the area, and more. The Childrenís Museum is a recreation of an early 20th-century Texas town where kids can ìshopî at an old-fashioned general store, dress up in period costume, and interact with the past in other entertaining and educational ways.
Visitors to the museum learn that Bay City is actually named for its location on Bay Prairie, between the bottomlands of the Colorado River and Caney Creek. It was established when Matagorda County citizens voted to move the county seat from the little town of Matagorda to Bay City ñ even though Bay City did not actually exist yet. Betting that an area about 25 miles inland from the Gulf would make a better setting for the county seat, a group of developers had purchased 650 acres and set aside one square mile for the town site. Once the voters decided to move the county seat, the group began selling lots and promoting the town.
It didn't take long to attract people who wanted to live in the new county seat and do business here. Soon Bay City was bustling with residents and retail, manufacturing and service businesses. Bay City Rice Mills built its rice warehouse in 1901 and the next year opened the townís first mill. Rice is still the top crop in the county today. Other businesses at that time included groceries, feed and farm implement stores, butcher and barber shops, confectioneries, and drug and dry goods stores. There was also a brick-making plant, broom factory, cotton gin, and lumberyard.
In 1901 the railroad reached Bay City, adding to the economic boom. In fact, by 1914, just 20 years after it was founded, Bay City had 3,156 residents enjoying the good life in a thriving community at the center of the largest rice producing area in the nation. Bay City had newspapers, churches, schools, banks, a public library, and a municipal waterworks. The town attracted dentists, doctors, bankers, lawyers and other professionals.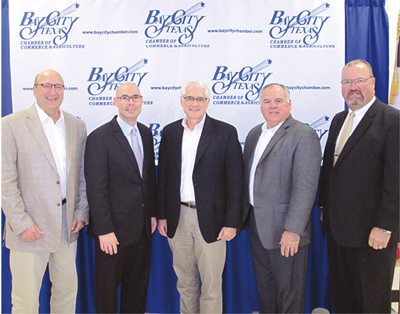 Bay City continued to grow steadily through the first half of the 20th-century. The 1960s and 1970s brought an airport to the area, and the man-made port of Bay City was completed. New technologies brought new industries including the Celanese Chemical Company, the South Texas Project, and Occidental Chemical Company. The 1980s and 1990s were also a time of growth and the city now covered more than six square miles. By 2000, Bay Cityís population was 18,667 with 890 businesses. That growth continues at a steady pace today.
A much older piece of Bay Cityís history is explored at the Matagorda County Museum in exhibits about LaSalleís expedition to the area over 300 years ago. A fleet of four small ships under the leadership of Robert Cavelier, Sieur de La Salle, set out from France with 300 colonists in 1684. Their goal was the mouth of the Mississippi River where their settlement would strengthen Franceís claim to western North America.
Bad luck haunted the expedition from the start. Even before reaching America, pirates took one ship. The other three ships continued on ñ but landed on the Texas Gulf Coast several hundred miles west of the Mississippi. La Salle lost a second ship when it ran aground in the shallow Gulf waters. With it sank supplies needed by the colonists to survive. Some colonists rebelled and returned to France on a remaining ship, leaving 180 colonists to explore the wild Texas coast in a single vessel, the La Belle. Early in 1686, La Belle sank in Matagorda Bay. Then La Salle was murdered by his own men near present day Navasota, Texas.
Fast forward 300 years to 1995, when a diver from the Texas Historical Commission (THC) discovered a bronze cannon on the floor of Matagorda Bay. More divers were brought in and they found the remains of La Belle. The discovery made international headlines, and THC embarked on a massive operation to recover the oldest French shipwreck in the western hemisphere. The story continues today at the Matagorda County Museum where artifacts from the wreck are on display, along with a diorama of a portion of the ship, showing it under excavation from the bottom of the sea.
Along with its historical exhibits, the county museum features paintings by Bay Cityís most famous artist, Forrest Bess (1911-1977). Bess was a contemporary of the renowned abstract artist Jackson Pollack and exhibited at the same New York City gallery in the 1950s. Many art critics think Bess might have become as famous as Pollack had not mental illness taken its toll and forced him to return to Bay City, where he lived and worked in seclusion until his death. Today, an authentic Bess painting can sell for five figures and his works continue to gain in value. Bess made national news a few years ago when the Matagorda County Museum decided to have an auction on eBay of a group of paintings that may have been created by the artist. The operative word is ìmay,î since the paintings came to the museum from a collector known to deal in forgeries, and no one could authenticate the paintings. Real or not, the paintings offered on eBay sold out, and the auction was written about in the Los Angeles Times, Texas Highways and Art & Antiques.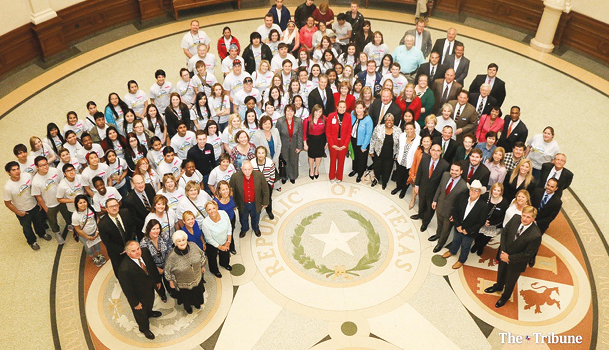 Shopper's Paradise
The museum anchors Bay City's lively town square, where retail and service businesses are thriving. People come from all over town - and Texas- to shop the antique andresale shops and gift emporiums that surround the courthouse square. You can enjoy a cup of gourmet coffee or cappuccino here, or drop by another shop for organic and natural groceries and snacks. Market Days, held the third Saturday of the month from March through December, are popular events with vendors setting up booths around the courthouse with everything from handmade furniture and art to roasted nuts and fresh flowers and plants. Merchants around the square often have their own specials and sidewalk sales on Market Days as well.
Shopping isnít limited to a few blocks around the square though. Today in Bay City, you can outfit an entire house with the latest furnishings and appliances bought at local shops or national chain stores. You can build, renovate or update your home with materials bought at Bay City's hardware and building supply stores, and landscape your yard with shrubs and flowers from local nurseries. Full-service grocery stores offer everything from gourmet foods to organic produce to staples. Bay City's drug stores sell sundries, gifts, cards, school supplies and more. Shoppers also find the latest fashions at Bay Cityís department stores and boutiques, and can shop for new or pre-owned cars at automotive dealerships. The retail options go on and on. In fact, thereís not much in the way of goods and services shoppers canít find in Bay City.
You will also find a wealth of natural beauty and outdoor activities in Bay City. The Colorado River flows through Bay City, and Matagorda Beach on the Gulf of Mexico is just 25 miles to the south. In between and all around Bay City are parks, waterways and other natural areas that make Bay City truly "the gateway to the great outdoors" of south Texas.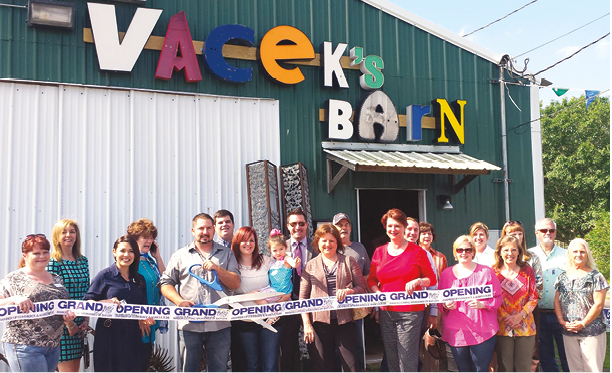 One way to get up close and personal with nature here is to kayak or canoe some of the many waterways that thread the area. Float down the Colorado River past quiet fields of rice and cattle grazing in the sun all the way to where the river meets the Gulf. Along Caney Creek, visitors enjoy tree-lined banks that shade the water below, offering glimpses of woodland bird species. In and among the saltwater marshes near the coast, visitors savor the solitude and enjoy the wildlife. There are five public-access areas in Matagorda County with many offering picnic sites, camping, fishing piers and group pavilions.
Touring the Matagorda County Birding Nature Center (MCBNC) is great way to experience the great outdoors in Bay City. The center offers amazing eco-diversity in a compact 34-acre setting. The site was selected because it contains examples of almost every natural habitat found in the county including river, prairie, wetlands, uplands, lowlands, creeks and streams. In fact, the MCBNC contains all of the habitats occurring in Matagorda County except for beaches and salt marshes. The center borders the Colorado River to the south, offering visitors exceptional views of river birds. The MCBNC includes interpretive trails, educational kiosks, butterfly and hummingbird gardens, a constructed wetland, indoor and outdoor educational facilities, and a boat dock for tours of the Colorado River. LeTulle Park, adjacent to the nature center, is another great place for birders and is frequented by waterfowl and migrating warblers in the spring and fall.
Speaking of birds, Matagorda County ranks as one of the top birding spots in North America. Located on the central flyway for migratory birds on their way to and from Mexico, Bay City and the surrounding county are home to 333 species of birds.
Numerous bays and streams criss-cross the county providing food sources for these birds, while timber forests and prairie grasses make perfect nesting areas. Agricultural land, coastal prairies, salt marshes, as well as vast stretches of sandy shoreline provide additional habitats for birds, attracting sea and shore birds as well as waders. Itís no wonder that in recent years, the county has recorded the largest number of species in the U.S. during the prestigious annual Audubon Societyís Christmas Bird Count.
The waters of Matagorda Bay offer prime fishing for angling enthusiasts. Drift and wade fishers find redfish and speckled trout. Deep-sea fishers in the Gulf of Mexico catch grouper, red snapper, amberjack, wahoo, black drum and more. Fishing along the Colorado River and area creeks is also popular.
Meanwhile, the new LCRA Matagorda Bay Nature Park and Preserve offers more outdoor activities and learning experiences. The 1,600-acre park features a visitorsí and environmental learning center, wildlife viewing areas, boardwalks and trails, and a recreational vehicle campground. The nature parkís location near the mouth of the Colorado River on the Gulf of Mexico, affords visitors opportunities to canoe, kayak and hike. Golfers and nature-lovers also head for Riverside Park, just south of Bay City. The park features boating, fishing, camping, jogging trails, picnic pavilions, and the Rio Colorado Golf Course, an 18-hole Gary Player-designed course on the banks of the Colorado River.
Agriculture has always been important to the life and economy of Bay City, so it's not surprising that fresh, local food and good restaurants are plentiful here. Along with its grocery stores, farmer's markets and produce stands, Bay City has a restaurant to suit every appetite. There are locally owned barbecue places where chicken, beef and pork are smoked over native pecan wood until the meat literally falls off the bone. On the Tex-Mex side of dining, you can feast on authentic enchiladas, tacos, tamales, as well as steak, shrimp and chicken fajitas. There are steak houses for juicy Texas beef with all the trimmings, cafes serving pecan chicken salad and homemade desserts, hamburger joints and dairy dips for old fashioned treats, popular chain restaurants of all styles, Asian eateries, donut shops and more.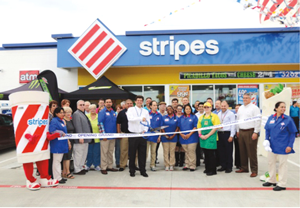 K-2 Steakhouse planted its roots in Bay City 30 years ago to establish a Kubeczka family tradition of signature meals served with generous portions of southern hospitality. The cornerstone of the menu is choice Black Angus beef hand-cut by their house butcher. They are known to serve only the best steaks, chops and chicken, and a variety of seafood platters with shrimp, catfish, oysters and stuffed crab. Home-style lunches include turkey and dressing, chicken fried steak, and enormous burgers served with flavorful side dishes. The centerpiece of the K-2 Steakhouse is its soup and salad wagon created from an old mail cart used during the Civil War, full of fresh garden vegetables and fruits. Guests are offered a dining experience where chefs impress you and bartenders lift your spirits, all in an atmosphere with southwestern antiques full of charm and history.
If Bay City means great food, it also means good times. Residents and visitors alike flock to the fairs and festivals held throughout the year. The Matagorda County Fair & Livestock Show runs from the last weekend in February through the first weekend in March. Summer brings out the fireworks and a big Fourth of July celebration. The Nature Family Fun Fest, an outdoor event that includes an art fair, stagecoach rides and more, is held at the Matagorda County Birding Nature Center in early October. The Bay City Lions Club Rice Festival in late October celebrates the county's top crop with a parade, carnival, and rice recipe cook-off. Christmas on the Square gets the holiday season started in mid-November, and the Bay City Christmas Parade through downtown in early December keeps the celebration going. Other holiday events include the Festival of
Trees at the Matagorda County Museum, and a special Christmas Market Days at the Bay City Civic Center. Musical concerts, bike rides, 5-K runs, art shows, Cinco de Mayo celebrations, and golf and fishing tournaments add to the fun all year long.
Of course, the people who live here are the most important piece in the quality-of-life puzzle. In Bay City, youíll meet folks who are friendly, hard working and community-centered. They are business professionals, farmers, retailers, cooks, teachers, firefighters, nurses, police officers, engineers, homemakers, factory workers, bakers and pastors. They are young couples just starting families, grandparents enjoying retirement or second careers, and every age in-between. They are diverse in culture and background but united in their regard for each other and their town. They are the piece of the puzzle that holds all the others together and make Bay City a great place to call home.